Ricoh Chairperson takes the stage at Reuters NEXT 2023
TOKYO, October 18, 2023 – Ricoh today announced its Chairperson, Jake Yamashita will deliver a keynote address titled "Empowering colleagues as ESG advocates" at Reuters NEXT 2023.
Livestreamed from New York, USA, on November 9, Mr. Yamashita will discuss how fostering a deep understanding and personal connection with the ESG agenda can transform members of the organization into purposeful drivers of innovation and agents for societal impact by addressing Ricoh's sustainability management, commitment to resolving social issues, and pursuit of realizing its Mission & Vision, Fulfillment through Work.
Hosted by the global information and news provider Reuters, Reuters NEXT is a global forum for CEOs, world leaders, policy makers and innovators to address critical challenges facing the world and society. The four stages - World Stage, Banking & Finance Stage, AI Stage, and The Studio - will cover everything from the challenges of governance amid geopolitical and financial instability, to resilience in the face of inflationary pressures, to the difficulties of implementing climate action, to the transformation of digital disruption.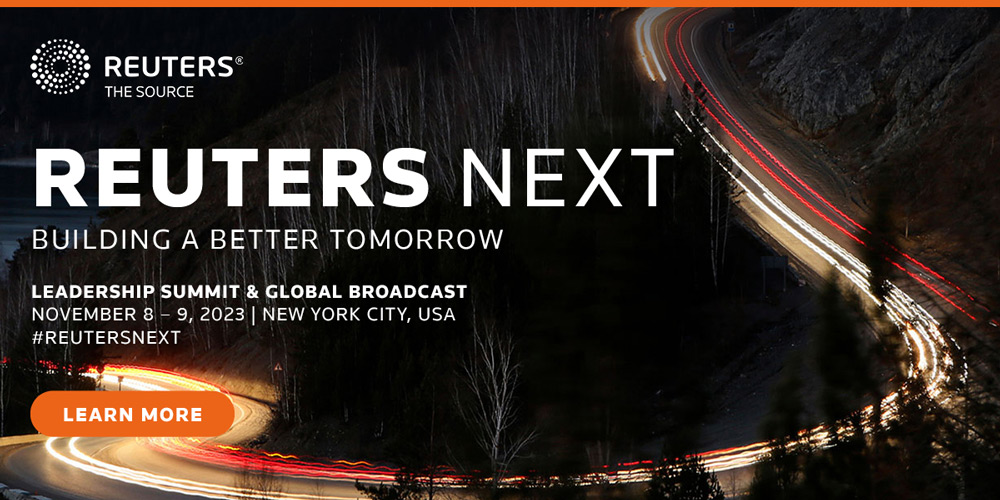 Mr. Yamashita says "It's clear that a top-down approach alone cannot address all the challenges we face as organizations. By empowering your members, you as a leader unlock the potential for a collective and sustainable impact. I genuinely believe that when people find fulfillment through their work, it unleashes an abundance of creativity. I look forward to bringing this vision to life during the event and sharing first-hand experiences of how it benefits team members and customers."
About Reuters NEXT 2023
Date:
November 8-9, 2023
Format:
Exclusive in-person Leadership Summit in New York with Virtual Global Broadcast.
Live broadcast link:

No pre-registration required, free-of-charge access

Agenda:

https://events.reutersevents.com/next/agenda*

*Ricoh Chairperson Jake Yamashita's keynote speech will be broadcasted on Reuters NEXT Day2, November 9 at 9:30-9:50 (EST), 22:30-22:50(JST)
For more information on Reuters NEXT, please see https://events.reutersevents.com/next
Relevant Information
Ricoh's comprehensive ESG disclosure
Materiality for the Ricoh Group
Ricoh President and CEO takes the stage at Reuters IMPACT 2022 "Empowering employees to be ESG Advocates