Ricoh publishes an integrated report; the Ricoh Group Sustainability Report 2017
Ricoh today announced that it has issued an integrated report; the Ricoh Group Sustainability Report 2017.
Ricoh has released a sustainability report each year since fiscal 2012. The report provides an overview of financial information and non-financial information, including Ricoh's impact on society and the environment.
We aim to provide an informative overview of how the Ricoh Group creates new value, addressing all stakeholders, including shareholders and investors. Having made a new start with a change in president in April, this report shares articles about how the Ricoh Group strives to increase its corporate value by presenting the strategies of each business domain. It also lays out the relationship between our Sustainability Development Goals (SDGs) and Ricoh Group's business activities as well as details of the new environmental goals announced in April.
Ricoh places the understanding of the stories behind the Group's value creation efforts as the main priority in compiling the report. With this in mind, the details of each activity introduced in these stories are published on the Group's website.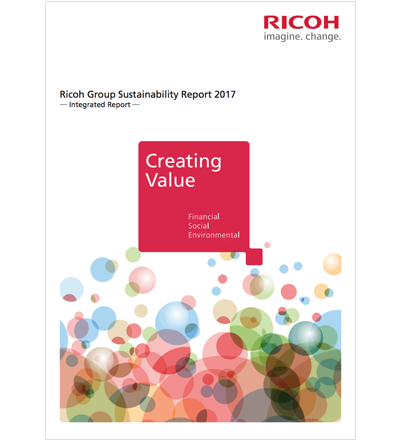 Click the image to see the report
The Ricoh Group Sustainability Report 2017 is available on our website and in PDF.
In terms of disclosure, Ricoh utilizes guidelines such as the International Integrated Reporting Framework by the International Integrated Reporting Council (IIRC), and the Sustainability Reporting Guidelines by the Global Reporting Initiative. Through this Report, we hope to foster understanding and support on the part of all stakeholders for the many facets of Ricoh Group's business activities, and channel the resulting feedback into efforts to further improve management and enhance corporate value.