Waikato Bay of Plenty Magic and Ricoh NZ team up
Official Office Automation Supplier for the 2018 ANZ Premiership season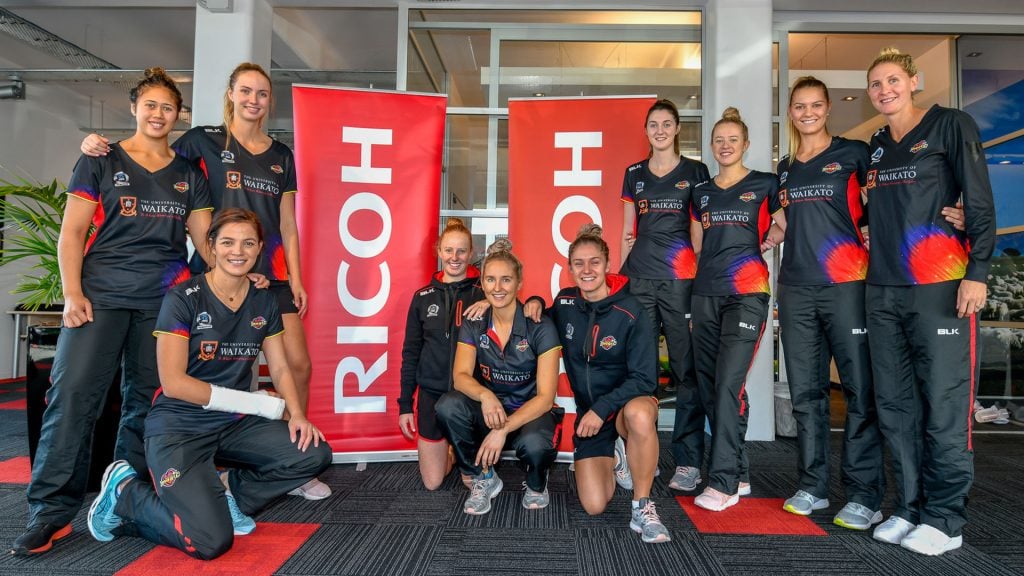 Ricoh and the Waikato Bay of Plenty Magic
Ricoh New Zealand (Ricoh) are teaming up with Waikato Bay of Plenty Magic as their Official Office Automation Supplier for the upcoming 2018 ANZ Premiership season.
"We are delighted to partner with such a successful New Zealand sports team in the Waikato Bay of Plenty Magic. They align closely with Ricoh New Zealand's values and we look forward to this partnership growing over the course of the coming season," says Ricoh New Zealand National Sales Operations Manager, Russell Foster.
"Netball the most popular female sport and in New Zealand and we're excited about the possibilities that this partnership brings. Ricoh is an organisation that prides itself in being at the forefront of technology and working with the Magic provides new and exciting ways in which to utilise Ricoh's
range of products
".
Waikato Bay of Plenty reginal CEO Rohan West says: ""Netball is the number one women's sport not only in the Waikato – Bay of Plenty, but across New Zealand, and the Waikato Bay of Plenty Magic are continually looking for new ways to help facilitate growth of the sport. We believe that this partnership will help with that and allow our supporters to experience the exciting technology that Ricoh New Zealand has to offer.
"Ricoh is a company with a significant presence in New Zealand and we are proud to work alongside an organisation that shares a similar ethos to that of the Magic."
The Waikato Bay of Plenty Magic begin their ANZ Premiership season on Sunday, May 6th against the Central Pulse in Palmerston North. Ends
About Waikato Bay of Plenty Magic
Waikato Bay of Plenty Magic are based in Hamilton and compete in the ANZ Premiership. They are two times winners of the National Bank Cup in 2005 and 2006 respectively and became the first New Zealand team to win the trans-Tasman ANZ Championship in 2012.
About Ricoh
Ricoh is empowering digital workplaces using
innovative technologies
and services enabling individuals to work smarter. For more than 80 years, Ricoh has been driving innovation and is a leading provider of
document management
solutions, IT services, commercial and
industrial printing
, digital cameras and industrial systems.
Headquartered in Tokyo, Ricoh Group operates in approximately 200 countries and regions. In the financial year ended March 2017, Ricoh Group had worldwide sales of 2,028 billion yen (approx. 18.2 billion USD).
About Ricoh New Zealand
Ricoh New Zealand Ltd is the local subsidiary of Ricoh Company, Ltd., Japan. Ricoh's business model focuses on constant innovation to provide our customers with value-adding
business IT services
and solutions. Our document solutions and services help our clients to increase productivity and reduce costs. Ricoh devices regularly win awards from independent industry authorities for their performance, reliability, cost effective operation and environmental features. Based on the concept of appliance-like ease that makes sophisticated technologies easier to use, we offer network office solutions in partnership with our customers.