Ricoh wins the Grand Prix award at the Nikkei SDGs Management Grand Prix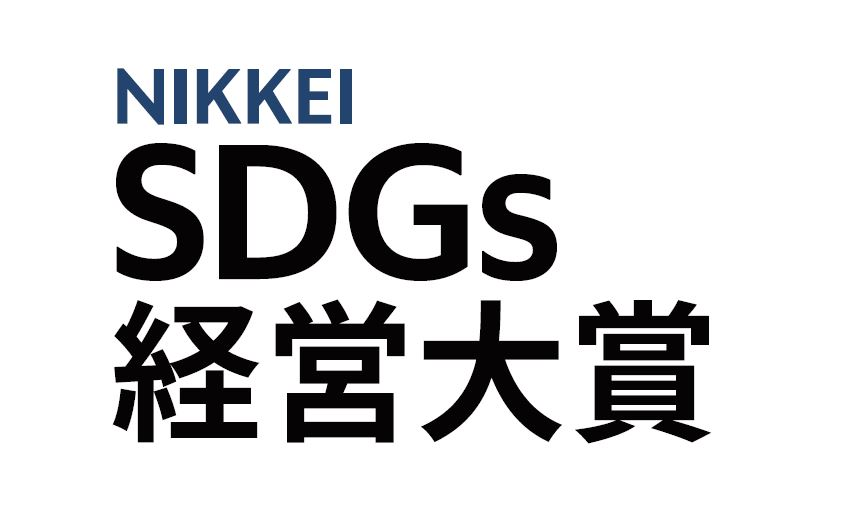 TOKYO, November 27, 2020 –Ricoh is pleased to announce that it has won the prestigious Grand Prix award at the 2nd Annual Nikkei SDGs Management Grand Prix.
The award recognises companies that work toward solving social, economic, and environmental issues through their businesses and improve corporate value by linking SDGs to their management efforts. Based on the results of the "Nikkei SDGs Management Survey" conducted by Nikkei Inc., the External Review Committee comprehensively reviewed the efforts and strategies of 731 companies in Japan.
The award ceremony was held on November 24, 2020. One company was selected for the Nikkei SDG's Management Grand Prix Award, and one company each received the SDGs Strategy & Economic Value Award, Social Value Award, and Environmental Value Award.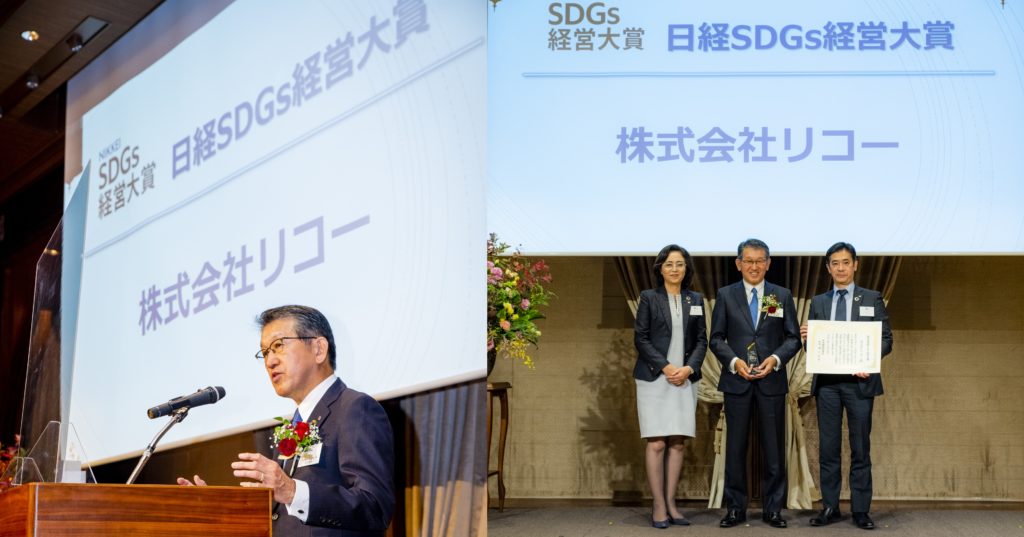 The Grand Prix award is given to the best company that has both improved corporate value and contributed to the SDGs throughout their corporate activities at a high level. It evaluates the four elements of SDGs strategy / economic value, social value, and environmental value, plus governance, which is the foundation that supports them. 
At the awards ceremony, Kunio Ito1, Chairman of the Jury, said, "Ricoh has scored very high points in all items, and each element is linked at a high level. As a top runner in environmental management, it has laid the groundwork for a long time, but this award is a big manifestation of it as SDGs." Also, as a groundbreaking initiative, he said that Ricoh is accelerating the use of renewable energy, such as converting all the electricity used in the production and assembly of A3 multifunction devices to 100% renewable energy. Ricoh has significantly raised its GHG (greenhouse gas) reduction target and has been certified under the new standard "1.5°C target" by the SBT (Science Based Targets) initiative.
For the Ricoh Group, an ideal sustainable society is one in which the Three Ps Balance—a balance between Prosperity, People and Planet—is maintained. To create such a society, it has identified seven material issues in two areas, "Resolving social issues through business" and "Robust management infrastructure," by reflecting Ricoh's Mission Statement, Mid-Term Management Plan (MTP), and expectations of its stakeholders. Furthermore, Ricoh has set 14 ESG goals linked to each materiality, and everyone, including management and employees, is working toward achieving those goals with a high degree of awareness. Under the slogan "Businesses that do not contribute to the SDGs will be eliminated," Ricoh will continue to actively promote efforts to realize a sustainable society by solving social issues.
*1 Emeritus Professor, Hitotsubashi University
Seven Material Issues and SDGs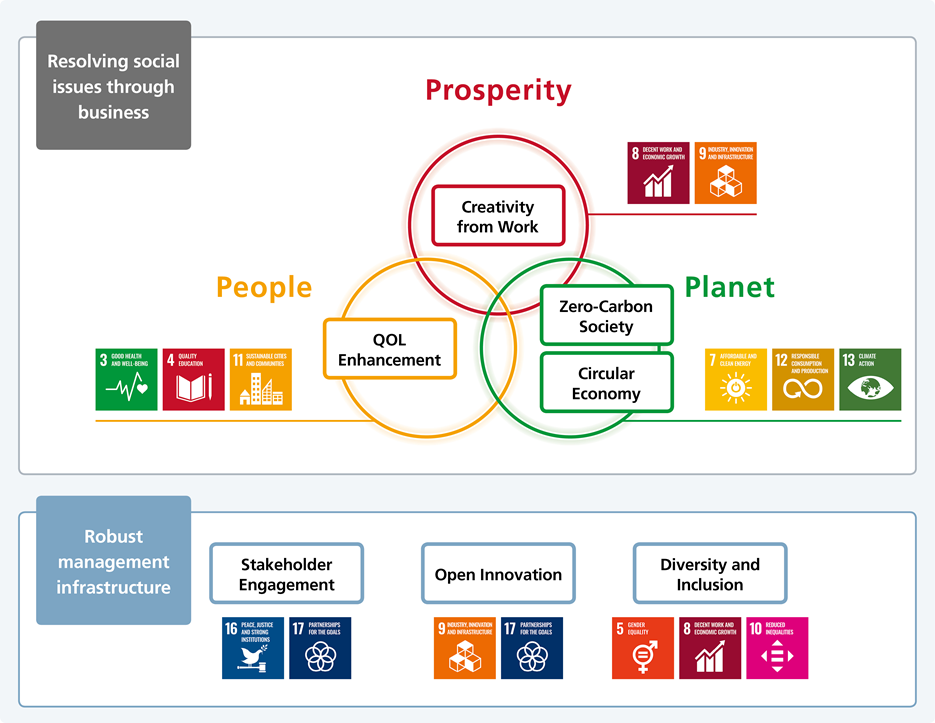 Ricoh's Approach to Seven Material Issues and ESG Targets