Ricoh recognised for climate action leadership and is included on the CDP climate change "A List" 2020
TOKYO, December 9, 2020 – Ricoh Company, Ltd. has been recognised for its global leadership in corporate sustainability by the environmental non-profit CDP for tackling climate change. It has secured a position on this year's climate change "A List" by CDP*1.
The CDP "A List" is comprised of companies recognized as global leaders who have demonstrated excellent results for their actions and strategies to respond to climate change. CDP surveys more than 5,800 companies worldwide. The 2020 climate change "A List" includes 270 companies, of which 53 are Japanese.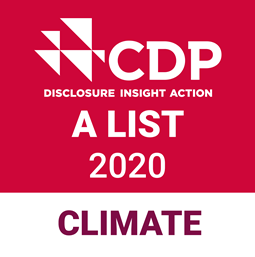 In March of this year, Ricoh updated its environmental targets in light of changes in global trends regarding global warming by revising its global GHG (greenhouse gas) reduction target for its own emissions from 30% to 63% in 2030, as compared to 2015. This new target, which has been approved by SBTi*2, will help limit global warming to 1.5°C above pre-industrial levels. Ricoh's efforts to mitigate climate change and its comprehensive information disclosure are internationally acclaimed.
Climate change is one of the most pressing social issues facing our global society. Ricoh has committed to becoming carbon neutral by 2050 and will continue to promote the realization of a zero-carbon society through energy conservation activities, renewable energy, and active participation in international initiatives.
*1 CDP is a global non-profit that drives companies and governments to reduce their greenhouse gas emissions, safeguard water resources and protect forests. Voted number one climate research provider by investors and working with institutional investors with assets of US$106 trillion, we leverage investor and buyer power to motivate companies to disclose and manage their environmental impacts. Over 9,600 companies with over 50% of global market capitalization disclosed environmental data through CDP in 2020. This is in addition to the hundreds of cities, states, and regions that have disclosed, making CDP's platform one of the richest sources of information globally on how companies and governments are driving environmental change. CDP is a founding member of the We Mean Business Coalition.
*2 The SBTi is a joint initiative of CDP, the UN Global Compact, the World Resources Institute, and the World Wildlife Fund that aims to enable leading companies to set ambitious and meaningful corporate greenhouse gas reduction targets.