Ricoh launches a new industrial inkjet printhead RICOH TH5241
Adding a printhead that uses a thin film piezo actuator to its lineup
TOKYO, Japan – June 1st, 2020 – Ricoh Company, Ltd., (Tokyo, Japan) today announced the launch of a new industrial inkjet printhead RICOH TH5241 which will be available globally from June 1st, 2020.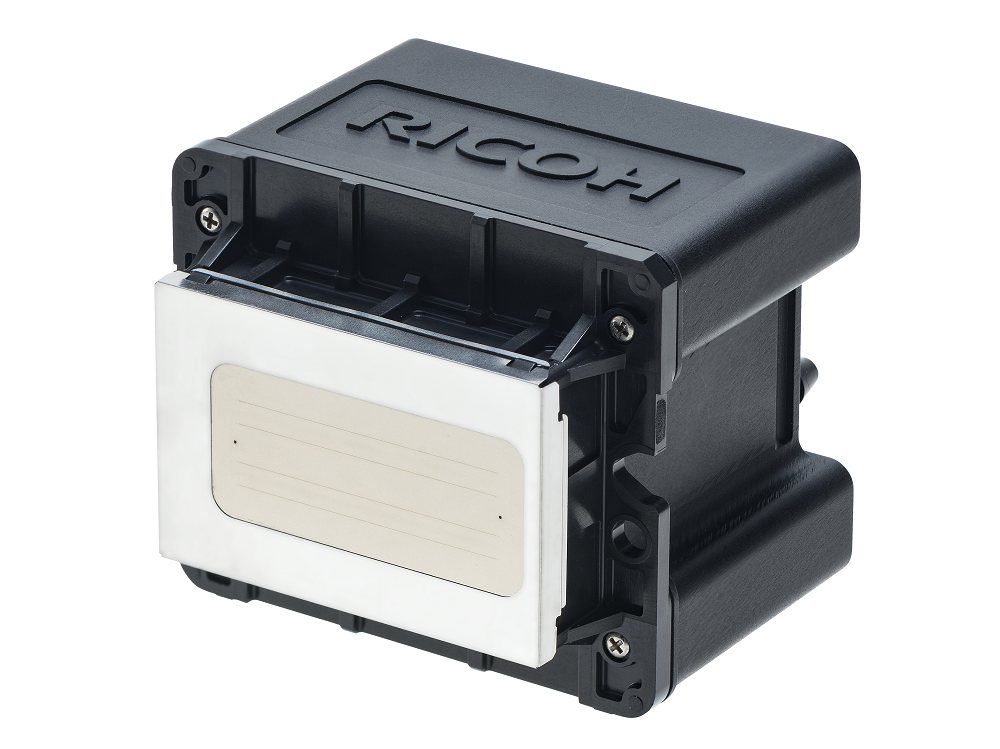 The new printhead is the first Ricoh printhead that uses a thin film piezo actuator*1(PZT). It is one of the new RICOH TH industrial inkjet printhead series and joins the already successful lineup of RICOH MH/RICOH GH series printheads.
By using MEMS*2 technology, Ricoh's unique design means the RICOH TH5241 is a compact printhead with 320 x 4 rows of 1,280 nozzles*3. In addition, high-definition printing of up to 1200 dpi can be achieved by jetting fine droplets. Also, ink paths for each nozzle row are isolated, enabling a single printhead to jet up to four ink colors. The printhead has compatibility with all ink types including UV, solvent, and aqueous and can be used for various industrial applications such as sign graphics, textiles and labels.
In addition, as the printhead is compact yet combines durability with stable jetting, it can easily be used in different kinds of printing systems and will help customers easily develop their own printing systems.
In the industrial printing market, there is an increasing demand to meet a variety of customer needs for sign graphics and textiles such as smaller run sizes and shorter delivery times. This has resulted in the rapid digitalization of industrial printing which can deliver greater flexibility and productivity. It has also seen increasing demand for inkjet printheads that enable high-resolution printing and even higher productivity.
By introducing this new printhead, Ricoh will meet these market needs. Ricoh will support our customers' printer development programs and contribute to social issues by providing solutions for clothing, food and housing.*1 A kind of piezoelectric transducer that creates mechanical deformation by the application of a voltage, used for jetting drops of ink.*2 Micro-Electro-Mechanical-Systems: a general term for miniatured electro-mechanical devices or technology.*3 There are two sets of 600npi with a staggered arrangement of 300npi nozzles per row.
Model name

Number of nozzles

Nozzle resolution

Jetting frequency

Drop volume

Compatible ink

External printhead

dimensions

Start date of order

RICOH TH5241

1,280 staggered

600npi (2 colours, 1 colour)300npi (4 colours)

40kHz (2 levels)24kHz (4 levels)

3/6/12pl depending on ink

UV, Solvent, Aqueous

Width: Approximately 52.7mmDepth: Approximately 45.4mmHeight:

Approximately 55.4mm

June 1, 2020
Related links
Introduction to RICOH TH5241
Introduction video to RICOH TH5241
RICOH TH/MH/GH Series