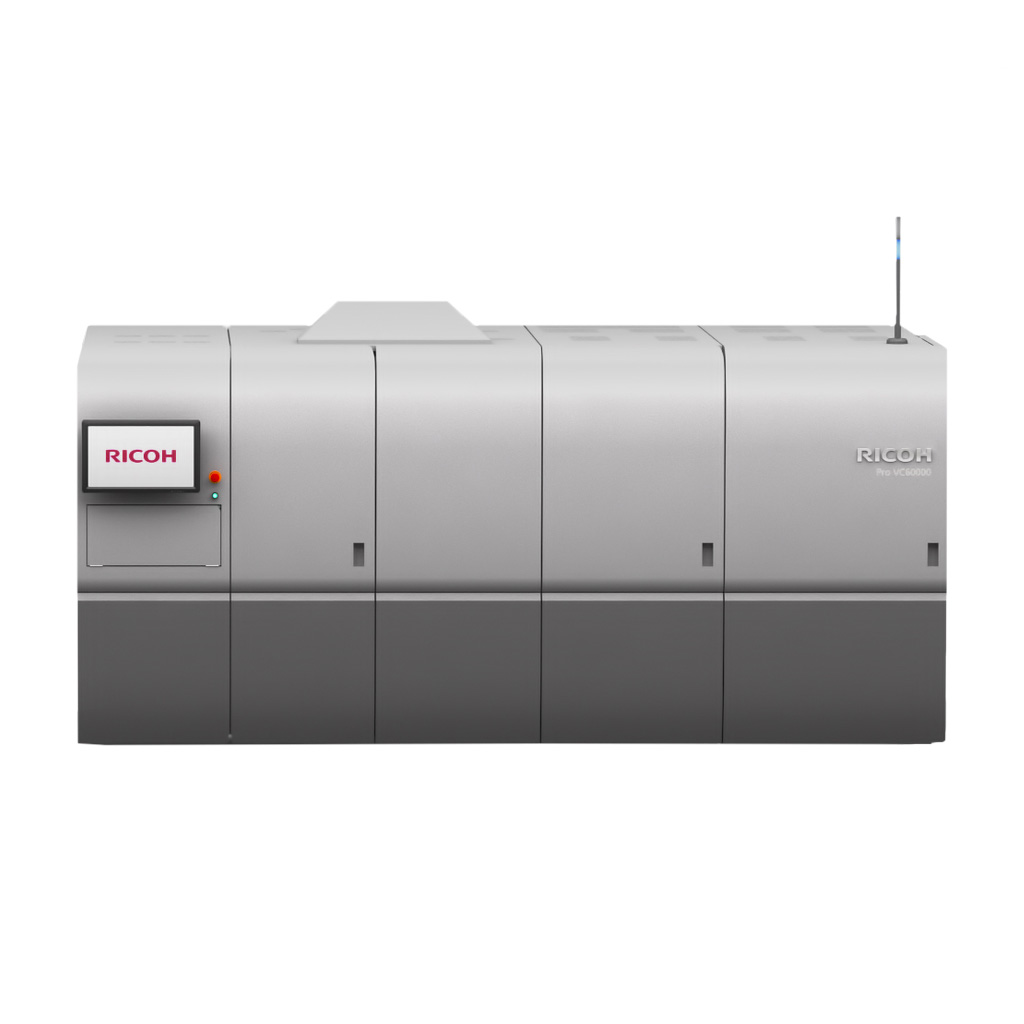 Back
Pro VC60000
Continuous feed production printer
Prints up to 150 metres per minute
1,200 x 1,200 dpi
Piezo inkjet printheads
Up to 40 million A4 impressions per month
A new dawn in production inkjet technology
That's why we've designed the Pro VC60000 continuous feed inkjet printer that delivers high-speed, near offset quality. Now you can personalise, customise and version high volume print jobs in brilliant colour, with sharp lines and detailed image reproduction
Next-gen continuous feed inkjet
A milestone in the evolution of high speed inkjet technology, the Ricoh Pro VC60000 is built upon our rich heritage of continuous research, development and innovation.
Enabling the new
The Ricoh Pro VC60000 enables a more rapid shift from offset to digital for commercial printers focused on data-driven workflows requiring high-speed inkjet presses, vibrant print quality and media flexibility that includes books, manuals, brochures, personalised collateral, direct marketing and precision marketing.
Precision that delivers
With the Pro VC60000 and VDP, you can print jobs virtually any way you want. Change addresses, content and even images on the fly. Getting a lot of "I need it now!" requests? The Pro VC60000 can take care of those quick-turnaround jobs, all in professional-looking, near-offset image quality.
Want major efficiency gains? Add software
Automate manual processes that slow down operations, increase errors and raise costs. With one or more of our workflow solutions, you can capture and manage information so it's always accessible to the people who need it, when they need it
Grow with expert guidance and support
Investing in a new press is a big decision - so let Ricoh's production print expertise support you every step of the way. Our specialists can help you grow your print volumes and achieve your business goals, both pre, and post-sale
Handle multiple data streams at rated speeds
Be the commercial printer who says yes to multiple data streams. The Pro VC60000's controller - the TotalFlow Print Server R600A - can handle PDF, PostScript, JDF and Intelligent Printer Data Stream (IPDS), without putting job fidelity at risk
Give every pixel its own special treatment
Ink, like variable data, has to be put in the right places for the highest quality. The drop-on-demand stainless steel printheads adjust ink drop size dynamically for every pixel. The Pro VC60000 production inkjet system uses only the amount needed, and not a speck more, so you won't waste ink
Turn up the temp to dry jobs quickly
Depending on the paper and ink coverage, the drying time for certain jobs is tricky. Good thing the Pro VC60000 has climate controls. You can turn on the heat with the optional extended dryer. And don't worry - it's dry heat, so you can send gorgeous jobs out the door, no sweat

Pro VC60000