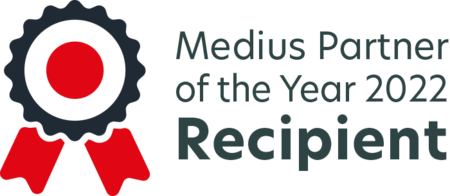 Ricoh wins Medius 'Partner of the year Award' - a partner-of-choice in the Procure-to-Pay space.
We are excited to share that Ricoh has been selected as APAC Partner of the Year by Medius, a leading provider of AP Automation and wider spend management solutions. The annual awards recognise Medius partners for demonstrating excellence in innovation and implementation of customer solutions based on Medius technology. In 2022 Medius acknowledged partners in seven categories.
These winners have demonstrated their determination to replace the worry and wondering of managing AP with calm and confidence across core regions. Financial recovery and profitability were huge factors for customers and colleagues in 2022. Medius and partners collaboratively worked to help customers gain control of cost, cash, and compliance through the entire procure-to-pay lifecycle.
Matt Rhodus, VP of Business Development & Strategy said: "Many businesses across the globe have faced financial challenges due to external economic factors beyond their control. This has defined business strategies, adaptability and future policies, no matter how big or small an organisation. Medius's Partners of the Year have clearly demonstrated how the best practices of automation, procurement and technology can support businesses and their customers in effectively managing cash flow."
For nearly 15 years, Ricoh New Zealand has been offering Workflow & Automation solutions covering three areas of expertise: Process Automation, Content and Collaboration, and Business Applications. Ricoh's established team has been delivering Medius solutions for over five years and have recently expanded its experience and resource with Australia. Medius has recognised our expertise to reach in delivering accounts payable and procure-to-pay solutions across the Asia Pacific. These solutions deliver a key part of our promise of 'fulfillment through work', allowing people to focus on creating value rather than repetitive work.
Roly Smoldon, GM of Digital Services at Ricoh New Zealand, said: "This award is an endorsement of the strength of our Workflow and Automation team, and their experience, in helping NZ businesses improve productivity and increase employee satisfaction. So, when customers want to make improvements to established business processes Ricoh is trusted as a proven partner in the region."
We have customers across Oceania, including St John, one of NZ's most recognisable and trusted brands. We look forward to expanding our partnership and delivering more game-changing solutions for our customers looking to ultimately improve their business's bottom line and customer satisfaction.